"About me" was this months topic and surprisingly in the 7 or 8 years I have been scrapbooking this is only the second time I have made a layout "About me"! Just like most mums it doesn't occur to us that our thoughts need to be as preserved just as much as our children's latest birthday party.
I enjoyed creating this page so much I've started another about my favourite things. It's interesting to see a collection of photos that sum me up. If you haven't tried making the page all about you give it some thought …it really was quite fun. :)
My focus SCRAPWARE product was obviously the
Damask flourishes. I love the girly feather boa/diamonds are a girls best friend feel this gives my layout. Being a mother with three boys I dont often do girly layouts so this was a nice change of pace. Two of the

Damask

flourishes came from the Large SCRAPWARE Pack and one from the small Pack. I also used an inchie square and 3 inchie square, Impact alphabet and
Okayeee so it is a busy page LOL ....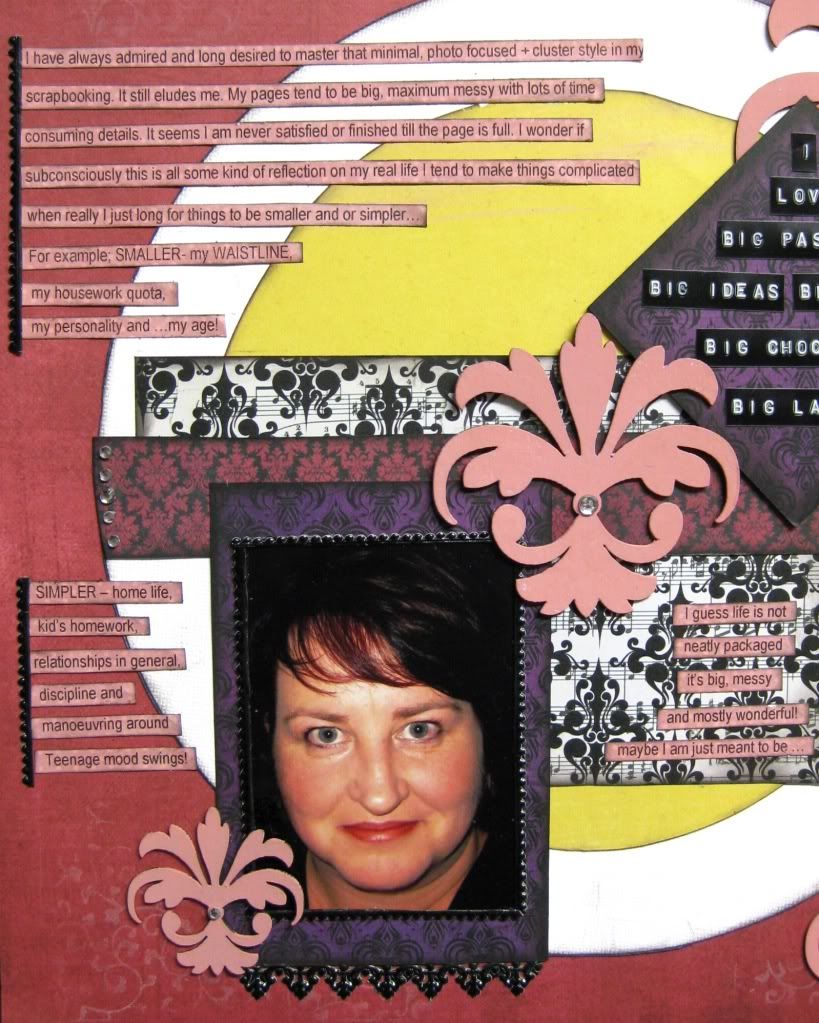 (I hope you can read this it explains alot about why the busy page is so!)
I also recently made an Artist's Trading card
on the SCRAPWARE ATC base, to accompany my first paper clay doll.
I created this doll for an international doll swap and the two things
are on their way to New Jersey USA!
Love the bases for creating "heavy duty" ATC's.
This was created in layers chipboard painted background first, embossed art doll stamp on the top and sandwiched in between.... glow in the dark embossing enamel on transparency!!! she's quite eerie in the dark especially after you charge her up right under the fluorescent desk lamp! LOL
Then over the top of the layers, another layer, this one of Dimentional Magic
with sparkly Mica powders sprinkled and dispersed into the wet gloss layer.
Also a work in progress...
I am having a ball with this little beauty...
HEREs A COUPLE SNEEK PEEKS ....
more of that album choc full of SCRAPWARE loveliness
coming up here and on my blog in the future....
Hope you've all been inspired
to use your SCRAPWARE to create a layout
that delves into what makes you so uniquely you